on August 18th, 2009, by Ton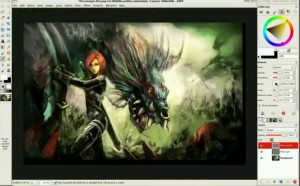 As a preview of what to expect in the Durian DVD box – and most probably also an additional title in our "Open Movie Workshop" tutorial DVD series, our concept artist David Revoy made this incredible cool time-lapse video of a concept art painting. His workflow reveals great tips and tricks, a must see for everyone who's in awe about watching people with artistic skills, and for every artist who is interested to learn from the masters!
Click on the image to watch the vimeo clip.
David writes:
This is a time-lapse of a full digital painting illustration with Mypaint / Alchemy and Gimp on Linux.
It was recorded in august 2009 as a technology demo for the 2D open source industry, done with Blender Video sequence editor as well as VLC/Mencoder and (gtk)Recordmydesktop.
Creative commons "attribution 3.0" (by:)
To Kevin McLeod (Music) – incompetech.com
and David REVOY (video & art ) – davidrevoy.com
A large picture of the result ( not full resolution ):
Inspiring note for (new) MyPaint developers: the program is great, but would be truly competitive with layer blending:
[Mypaint-discuss] Durian & Blend & Paint DVD : Feature request
PS: Some info usually asked :
Alchemy : http://al.chemy.org/download/
Mypaint : http://mypaint.intilinux.com/?page_id=6
Gimp : http://gimp.org/downloads/
>gimp-for-painter : http://fr.sourceforge.jp/projects/gimp-painter/releases/?package_id=6799
>Gimp Paint Studio : http://code.google.com/p/gps-gimp-paint-studio/downloads/list
Linux Mint : http://linuxmint.com/download.php