About
Open Movie, free to share and show!
"Sintel" is licensed as Creative Commons Attribution 3.0. That means you can share and show the movie freely, for as long you include the credit scroll of the film itself.
Read more >>
The Film
"Sintel" is an independently produced short film, initiated by the Blender Foundation as a means to further improve andvalidate the free/open source 3D creation suite Blender. With initial funding provided by 1000s of donations via the internet community, it has again proven to be a viable development model for both open 3D technology as for independent animation film.
This 15 minute film has been realized in the studio of the Amsterdam Blender Institute, by an international team of artists and developers. In addition to that, several crucial technical and creative targets have been realized online, by developers and artists and teams all over the world.
"Sintel" commenced in May 2009, with producer Ton Roosendaal establishing a core team consisting of Colin Levy (director), David Revoy (concept art), Martin Lodewijk (story) and Jan Morgenstern (composer). In August script writer Esther Wouda was approached as a consultant, which resulted in her taking the responsibility for the entire screenplay. Esther then worked in close cooperation with Colin, David and Ton to deliver the final script early November. Meanwhile, Colin and David realized the first storyboards.
Based on a public call for artists – with over 150 respondents – the Durian artist team got established in July 2009. They first met in a pre-production week in Amsterdam in August, and all decided to join the project per October 1st. With the final movie budget still unknown, the target then still was to finish the film within 7 months, with a team of 6 artists and 2 developers. At that time the team still had the hopes to be able to realize the script in a 6-8 minute film.
In november, the Netherlands Film Fund approved on a substantial subsidy for Sintel, enough to extend the project to 10 months, with possible 1 or 2 extra artist seats in the final months. It was also by this time that breakdowns and animatic edits showed that the script had to be revised to become more compact, with a story structure using a flashback.
In the months after, Colin's work on the Director's Layout – 3D animatic shots – and final designs on the grand finale gradually made the movie longer, from 9 minutes in november, to almost 12 in May. Proper story telling, to absorb an audience with convincing characters and action just takes time!
With the highly anticipated extra funding from the Amsterdam Cinegrid – also funding a 4k resolution version – Ton finally could extend the team with 5 artists and a developer in March 2010. With 14 people the film then was completed for a first screening on July 18th in cinema Studio K in Amsterdam.
Three artists then stayed in Amsterdam working on final shot edits, lighting design, compositing, and on the impressive 2 minute film credits. The movie ended up with a total duration of 14m:48s, 888 seconds!
Sintel will premiere on September 27th 2010, in Utrecht on the Netherlands Film Festival.
The movie itself, and all of the work of the Durian team in the past 18 months will be released under the Creative Commons Attribution license, free for everyone to distribute, learn from or re-use. The 4-disc DVD set will provide all data to be able to recreate and rerender the film in its entirety.
Project targets
As usual – like previously for Orange, Peach, Apricot – the Blender Foundation's interest is to organize projects that will help Blender further:
Stimulate development of advanced features.
Validation of Blender by great artists
Use and improve an open source creation pipeline
Deliver good publicity and PR for Blender
Create useful presentation and educational material in Open Content
Last but not least, provide a fun and inspiring experience for the entire Blender community!

We do this by inviting the best of the talents from the Blender community to work in Amsterdam for half a year or more, in the studio of the Blender Institute. They get excellent working conditions, and full coverage for travel and housing, including a reasonable fee. All of tools we use here for the film are open source, and everything we create, including the final result, is being delivered as free and open content under Creative Commons Attribution.
Durian concept
Since we don't have to suffer a traditional commercial production method, the team who will execute Durian will get a near unsurpassed freedom in creating it. Some aspects have been frozen though, partially because of the technical targets, partially just do something different than the previous projects.

Short 3D animation film, 5-8 minutes.
Epic short story, emotional impact, action scenes
Targeted at adolescents. Ok, we all still are, right! 🙂
So let's add a female/girl as main character!
Visual and conceptual appearance of a typical "Hollywood" blockbuster or game trailer.
Technical targets

High detail multi-res modeling (sculpting) and render (micropolygons?)
Fire/smoke/volumetrics & explosions
Compositing using tiles/regions, so it becomes resolution independent
Crowd/massive simulation (fix animation system to allow duplicates)
Improve library system for managing complex projects
Deliver in 4k digital cinema (depending agreement with sponsor)
Make the Blender 2.5x series fully production ready.
(Note: the compositing and crowd sim targets have been postponed for another project)
Core team
Martin Lodewijk, Concept (the Netherlands)

Martin Lodewijk is renowned to be the godfather of Dutch Comic. He is best known as the creator of the comics series "Agent 327" and as scenarist for Don Lawrence's Storm series. He excells both in drawing comics, as in concepts and writing. For Durian he has developed several original concepts.
Wikipedia about Martin Lodewijk
Martin Lodewijk portfolio, lambiek.net
Wikipedia about Don Lawrence, Storm
Esther Wouda, Screenplay (the Netherlands)


Esther Wouda is an experienced script consultant and creative producer. Since 1999 she selected and developed movies and tv series for (Eyeworks) Egmond Film, Oscar®-winning producer of Antonia. Esther established in 2008 a new company Gloworm Flm, script consultancy for writers and producers in the film industry.
Colin Levy, Director (USA)

Colin is one of these rare young people with an insatiable desire to create films. He is already active with Blender as 3D animator and vfx artist for many years, and studied as film maker at the Savannah College of Art and Design.
Before Durian he was filming his short film "En Route" in Savannah. For Durian his target is to work on a great story with convincing characters, a short movie with emotional impact people can attach to.
Colin's website and production log
David Revoy, Concept Art (France)

David already has a great professional history as freelance concept artist, art director and illustrator for many studios and publishers. He's a very proficient CG artist, using open source drawing programs (Gimp, MyPaint) as well as Blender for his work. His epic fantasy style will greatly define how Durian will look, although he will make it more dark and evil than his usual free artwork!
Nathan Vegdahl, Character Rigger (USA)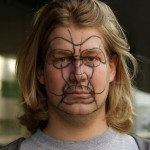 Nathan has been involved with Blender already for almost a decade, also as a developer. In the 2004-2007 period he studied animation and rigging. In 2007 he became the rigging guru for the Big Buck Bunny movie. Nathan is very all-round, but his passion is with character animation, for which we can use his talent and great fun personality very well!
Nathan's portfolio and youtube reel.
Angela Guenette, Modeler (Canada)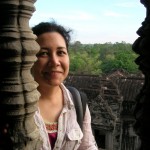 Angela was the big surprise submission for Durian, standing out with an amazing quality portfolio. She will definitely bring in a lot of valuable animation movie experience! She's a great character modeler, sculptor, animator, and is specialized in facial rigging and shape keys.
Ben Dansie, 3D Artist (Australia)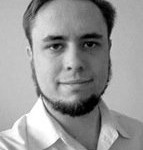 Ben is a well known regular in our Blender channels, amazing everyone regularly with new artwork and animations. It was very cool to witness his artistic development over the years. He's a true 3D generalist, with special skills in modeling, sculpting, texturing and creating renders with great looking results. Ben graduated Visual Arts (University South Australia), and prior to Durian worked on a game cinematic at a local studio in Adelaide. Now that Durian is completed, he is currently looking for other projects. New reel almost done!
Ben's portfolio and Durian application reel on Vimeo
Soenke Maeter, 3D Artist (Germany)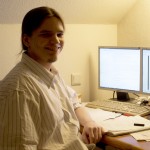 Soenke's artwork illustrates very well why we wanted him in this team. He's a real finisher, someone totally devoted to make breathtaking visuals. His skills is mostly in non-organic (environment) modeling, lighting, rendering and compositing.
Lee Salvemini, Character Animator (Australia)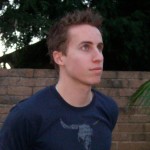 Lee definitely stood out with a submission that showed sheer passion for our epic & action concept. Everyone who knows him, is familiar with his devotion to animate action shots with cool warrior girls, preferably in a stylish anime fashion. We've already worked with Lee 4 years ago, on our first open movie Elephants Dream. Lee currently works in a games studio on animatics for a Lucas Star Wars game.
(portfolio currently not available yet…)
Brecht van Lommel, Software Developer (Belgium)
Brecht is currently a full time employee of Blender Institute, working on realizing the next 2.5 release. He's an all-round talent, and proven to be incredibly valuable and supportive for the artist teams of past Peach and Apricot projects. His special interests are in the imaging and rendering area, of which we expect he will make great contributions!
Campbell Barton, Technical Director (Australia)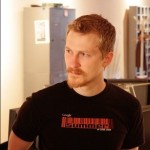 Campbell is one of the most active developers of Blender since many years. He is very all-rounded, but specialized in Python work and scripting. He previously was available in the same role for the Big Buck Bunny movie and the Yo Frankie! game projects.
We're all very happy to have his experience and support available again!
Pablo Vazquez, 3D Artist (Argentina)
We all knew Pablo already for his beautiful artwork on the "Yo Frankie!" Open Game, and his tutorial DVD Venom's Lab. His talents are especially in lighting design and compositing, with his colorful approach we have given him the title of Pinkifier in the team!
PabloVazquez.org Personal Portfolio
Beorn Leonard, Character Animator (UK / Australia)
Beorn was added to the team in March. His portfolio was very impressive, and what helped was that he already lived around the corner! He especially realized the many action shots involving the dragons and Sintel. Beorn is currently completing a course at Animation Mentor.
William Reynish, Character Animator (Denmark)
William already was well known for his character animation work on Big Buck Bunny. He joined the team in April for three months. His experience helped us a lot getting the baby dragon and Sintel to become live personalities.
Jeremy Davidson, Character Animator (UK / Australia)
Jeremy already was well known for his excellent work in Sydney based animation studio Red Cartel/Promotion Studios. With a background in 3DMax he quickly became proficient with Blender there. He joined our team in April, and his talent for physical animation and fighting choreography has especially helped us creating our grand finale.
Dolf Veenliet, 3D artist (the Netherlands)
Dolf already is active as an autonomous artist for many years, using Blender for great art pieces ranging from pure abstract to 3D character renders. He also joined the team in April, to complete the rendering and compositing team.
Ton Roosendaal, Producer (the Netherlands)

Ton's experience with 3D started in the '90s, making animation for video and product presentations. During that period he also developed Blender, which became open source in 2002. Since then he works as Blender Foundation chairman to coordinate the blender.org projects, and for Blender Institute as producer for short film projects like Elephants Dream and Big Buck Bunny.
For Durian he is responsible for all organizational and financial tasks, and ensure the project targets are met.
Music and sound design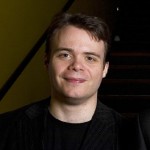 Based on our excellent past experience with Jan Morgenstern and his studio Wavemage, we've contacted him to help with Durian as well. He has committed to provide us services for music, sfx, sound edit and mix again, which makes Wavemage our first official Premium Sponsor!
Free/Open Source software
For the entire creation pipeline in the studio, we will only use free/open source software. For 3D graphics, compositing and video editing we'll obviously use Blender. For imaging and drawing we expect to use GIMP and Inkscape a lot. Next to these, we'll explore the very promising paint programs MyPaint and Krita. Render output will be in OpenEXR. Scripting will be done in Python. Studio database storage will most likely be in SVN. The workstations in the studio will be equipped with 64 bits Linux, distro and desktop environment is to be defined later. We intend to build our own render farm this time, for which a free software solution will be required as well.
Since we'll work with external providers for music, sfx and mix, we can only recommend them to include free software in their pipeline, but won't put stringent demands here.
Bottlenecks in past projects were especially for DVD authoring and high quality video and sound (5.1) encoding, for which we've partially used non-free programs as well. Hopefully we can solve it this time with free software solutions!
Obviously we're very interested to be in contact with free/open source projects of any kind, to check on what we can do together.
Budget
The Blender Institute will fully backup the financial and practical aspects of Durian. Apart from the funding we will get via the online DVD pre-sale, and funding via other revenues of the blender.org e-shop, we have actively approached several potential sponsors and funds. In November 2009 we were happy to announce a major funding approved by the Netherlands Film Fund. In March 2010 we completed a similar amount from the Cinegrid Amsterdam consortium (for a 4k version). Apart from that, many other sponsors have helped us well, as listed on the sponsoring page here.
This way we've managed to expand the team to 14 people in the end, and extend the working period until september 2010, a full year!
We still have a sponsor offering on this website, corporate contributions are still more than welcome.
Contact info: Ton Roosendaal.