on August 24th, 2009, by Ton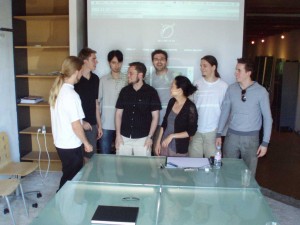 Yesterday all Durian artists arrived here in Amsterdam for the pre-production week, a week of discussions, reviews, brainstorms, pipeline designs, styling proposals, watching clips, and of course a lot of fun to get to know each other.
The agenda for the week has been defined this morning as follows:
Monday
– 10h: welcome, going over all topics to make final agenda
– 14h: Script/story review sofar
– 16h: Martin Lodewijk visiting to do the script pitch
Tuesday
– 10h: Style and design: each artist shows a clip and explains why it's cool or not
– 14h: Blender review: features for the film, as well usability roadmap for 2.5 project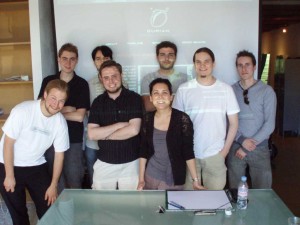 Wednesday
– 10h: Animation! Tools, techniques, video references, kung fu courses, etc
– 12h: Lighting, textures, use of GI, final gathering, etc… how images can look great!
– 14h: Field trip to Amsterdam, probably the Tropical Museum (Asian art)
Thursday
– 10h: Communication: Blog, docs, DVDs, tutorials, Durian book, external help
– 14h: Team roles
– 16h: Story/script take two
Friday:
– 10h: Pipeline issues, project planning
– 14h: legal topics, visa, contracts, etc,
While I was typing this after lunch, Martin suddenly showed up, he was early! So I could only finish this text now… Martin delivered three treatments/stories, of which we'll work out the second, which is about a girl and… an epic dragon!
More later,
-Ton-
(Picture L to R: Nahan, Colin, Brecht, Ben, Angela, David, Soenke, Lee)