on August 29th, 2010, by Ton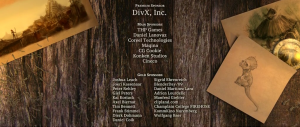 Dolf spent the last two weeks here on a wonderful film credits, based on David's concept art, which added another few minutes to the film! Pablo and Soenke keep trying to make shots even more awesome, but that also has to stop soon now. The next week we can still do last re-renders, spend time on a final color grade session, and then at sept 7 deliver the final files to the film lab. The final Dolby master then has been scheduled on the 9th, with the first film print – for the premiere on NFF – ready tuesday 14th.
Film stats:
– Film itself: 12:24
– Credits: 2:24
Total length: 14 minutes 48 seconds, or 888 seconds!
Who could have imagined! We started with a target of of "6-8 minutes" you know. 🙂 And even after the finals screening, Colin and Beorn managed to add 4 seconds to the film!
Next on the todo: get the DVD mastering started up, we already have a menu loop for it, a quad-split-screen version with storyboard-layout-opengl-final and will add a number of fun deleted scenes! Ali has the documentary finished (60 minutes). Oh, and we didn't forget the tutorials, our loyal team members are working from home on it now. 🙂
-Ton-
(BTW: I've updated the About pages with proper history info and added the missing artist's mugshots, this in preparation of press releases and for magazines etc.)
(BTW2: the date for the actual online release has to be pinned down still. Aim is to do this within a week after the premiere. Also depends on how fast we can get the DVDs done. News on this will follow)