on August 25th, 2010, by Ton

With a pre-screening copy we are already submitting to festivals, the first approval now is in, for Siggraph! Here's a snippet of their email: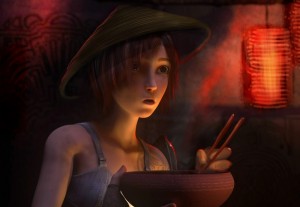 We are very pleased to inform you that your submission "Sintel" has been accepted to Animation Theater of the SIGGRAPH Asia 2010 Computer Animation Festival.
Our International jury, a diverse group of leading animation experts, selected your piece from among the hundreds of entries for the festival due to its high quality, interest, and impact on the SIGGRAPH Asia Community. Congratulations!
Siggraph Asia will be in Seoul, South Korea, from 14-18 december. I probably will have to go then! 🙂
-Ton-
(Added Asian styled Sintel mockup from David !)