on September 8th, 2009, by Ton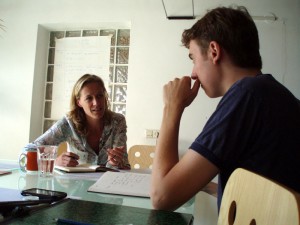 For each project I like to put our targets a bit higher, not only to have Blender improved, but also to learn more about how to create a good quality short film in general. We've done really great the past two films, but most of the criticisms do agree on the fact that we lacked story and scenario development. OK… nice challenge here!
Luckily we have the great benefit this time of a scenario/storyboard development budget from the Dutch Film Fund, which allows – and obliges! – us to take whatever steps possible to have the best scenario when we start in october
As you might recall, I've asked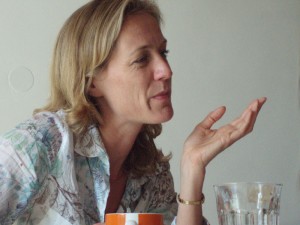 writer Martin Lodewijk to write us a script, and scheduled all of the month of september with David and Colin here to further develop the scenario and storyboards.
Two weeks ago, when we had the first meeting with Martin, there were three rough outlines of stories written by him, but none of these were ready as scenario. The most promising one was a great concept but lacked storyline and development. Agreed was that we would take this ourselves further, trying to keep it as close as possible to Martin's original creation.
Last week Colin – with help of the rest – developed a couple of story and screenplay variations. By the end of the week there was one script and story we were quite happy with.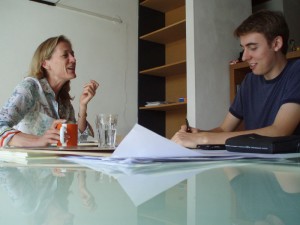 In the meantime I tried to find a couple of good consultants to assist Colin in this process. Yesterday we had the first session of Colin/David and consultant Esther Wouda, which really was a revelation and actually a big relief too! Esther convinced us to go back a few steps, and really do another attempt to design this epic and compelling film with characters people care for, and a story people will remember!
So… exit last Friday's script, and back to a more challenging but far more satisfying idea… 🙂 It's a pity we have to sacrifice precious storyboarding time now, but – quoting Colin and probably most of the film makers – "story is everything"! First that, then a film…
Esther Wouda's website: http://www.glowormfilm.com
Esther's IMDB credit: http://www.imdb.com/name/nm0941870/
Later more!
-Ton-
(Pictures: Esther and Colin working today. Also shot many videos of them, will be great to see how much of this work will be in the final film!).