on November 3rd, 2009, by angela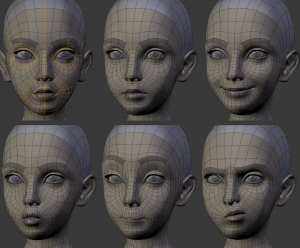 My presentation at Blender Conference included facial topology for animation use, as well as demonstrating a series of facial shapes on our test model.
A bit about my work flow: I start by creating the full symmetrical shape, ensuring natural progression from default shape (0) to full key shape (1). The next step is ensuring proper mixing of shapes. Much tweaking is spent on the more subtle details. Once the shape is completed, I weight paint to break up left/right side to allow asymmetrical expressions.
In his recent post, "Development Update #2" , Brecht describes some of the development work that has gone into improving work flow efficiency.
Enjoy!
Angela