on November 2nd, 2009, by jan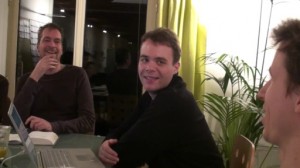 Last week, I paid a two-day visit to the team in Amsterdam. Aside from getting to know each other, introducing me to the ubiquitous windmill beer and overstretching the definition of "vegetarian" at the local Thai joint, I got lots of cool insights into the production process and, of course, discussed the soundtrack with Colin and Ton.

As some parts of the script aren't quite finalized yet, we mostly talked about the general approach while avoiding getting tangled up in details that may change later. Luckily, it turns out that Colin and I have largely the same taste in film music, so I'm positive we'll quickly establish a musical language that works well for both of us. The central aspect of my current scoring concept is to assign a musical figure to our heroine that sticks to her throughout the story and is sufficiently flexible to transform in unison with her character. One particular thing I'd like to experiment with is deriving minimalist patterns from this theme and use them as a backdrop for larger thematic progressions… we'll see how that will turn out. Also, while there will be a lot of action in the film, each of these sequences has a vastly different meaning in the context of the dramaturgy, so we discussed some ideas on how to avoid descending into cookie-cutter action cue territory there.
As for the production details, a lot depends on some budgetary decisions that are still pending. It seems likely that I'll get to hire session musicians or smaller ensembles for prominent parts of the score; there's a chance that there will be choir parts, so those would be an obvious candidate. The possibility of recording the entire score with a full orchestra is also not entirely out of the question, though I'm somewhat reluctant to try this on a constrained budget; simply put, I feel that the score might be better served with some really good session musicians and sufficient recording time instead of a rush job with an average orchestra.
During the next 2-3 weeks, I'll be busy with a major studio relocation. Which is quite a shame, as I got back with a head full of ideas and an strong urge to spend a couple of days in front of a piano. Did I mention that they do some incredibly inspiring stuff over there? Well, they do.
-jan