on November 5th, 2009, by Deevad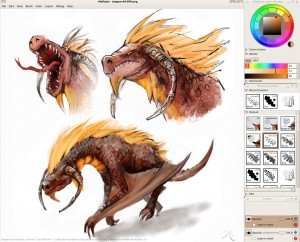 Release scheduled in November/December , the next Mypaint will come with a lot of new features.
Of course I'm already use most of the new feature on Durian ; and I wanted to highlight my favourites here:
/!\ note : all this picture are from a development version ; they can change in the future Mypaint v0.8 , and all the concept art used to present those screen are outdated (of course) 😀

Pick context

I never see this features in any 2D software, and this is a litlle revolution : We knew by the past color picking , ideal to pick a color in the canvas ; Mypaint now got "Pick context" : Now you can pick the total brush setting ( color/size/opacity/shape…etc…etc… ) on the canvas , or select a layer  by picking the painted area on it with this feature.
New colors selectors
HSV and RGB sliders ; a new color wheel precise and ergonomic , as well as a color history , and a lot of information about colors ( harmonies ). Really cool. The pop-up selector was redone too with nice HSV fast selection, as well as some color variation on the RGB color space.
Straight line for perspective
Now, "Shift" key will help you to draw perspectives lines, the concept of this feature is very good  ; lines keep origin while shift is press so it's very easy to got some fast perspective grid. ( I pasted the resulting concept art after the feature screenshot above )
Brush system

Before , Mypaint had only a rounded shape to paint with  ; now, with the aspect ratio and angle , "knife" , "marker" are possible. So more dynamic sketching !
There is too some cool new brushes , extremely creative , and thanks to the team to include my set in the defaut brush setting. I played on the picture above a bit with some new interesting ones.
Palette

A very good palette appear with the possibility to generate gradient between to colour insertion auto-magically, have multi group of palette and of course import/export from Gimp.
Ora tools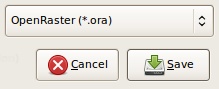 Not really a Mypaint feature , but now, with this python script plugin, Gimp can open the layered Open raster files made with Mypaint, and Save them too.
Want to help this project ? Quoting the Mypaint blog :
"Besides coders we want translators and people to write documentation. Don't worry if you don't have a lot of experience, we will help you get started. We also want packagers so we can get into official package repositories. And someone to help get a Mac OSX version up and running (should not take much) would be great."
Big thanks of course to the development team ; especially to :
Jon Nordby (Jonnor) for Ora tools
Martin Renold (Maxy), the original creator of Mypaint,  for working on my feature request list 🙂
Ilya Portnov (Portnov) for adding so much features !
Sean J. MacIsaac (SeanJM) for the good designs, Ui mockup on the wiki , and quality feedbacks.
My paint website : http://mypaint.intilinux.com/
Official sources here.
-David