on July 30th, 2009, by Ton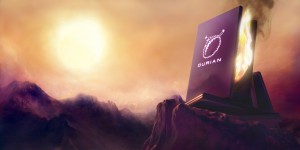 Similarly to how we've realized projects Orange, Peach and Apricot, we organize a donation campaign to collect funding for Durian.
You can help us to realize this film by purchasing the DVD edition of Durian in advance!
We've also decided to go for a triple disk DVD this time, which will have at least:
The movie (approx 6-8 min) in best DVD quality widescreen format (disks in both NTSC and PAL).
The HD version of the movie (.avi and/or .mov).
The third disk with a lot of video tutorials by the artists and developers.
All .blend files, models, textures, and so on… the material used to create the movie.
The original script, breakdown, storyboards.
Documentation and other tutorials by the team members about all technical aspects the movie; like how to re-use assets, animate characters, or add new shots.
And of course all the extras we can't predict yet, like commentary tracks, a making-of documentary, outtakes, and so on.
If you purchase and pay the DVD by september 15th latest, you can get your name mentioned on the official movie credit scroll! To make sure the crediting works fine, we will remind everyone via email a month before the movie goes to premiere.
As you can notice on the campaign "money meter", we target at a pre-sale of 2000 this time. Very ambitious, but the targets for this project are ambitious too. Order now!
General donations are welcome too, check the Sponsor Prospectus for offerings, or use the Donate button there.
Thanks for the support!
The Durian Team