on June 24th, 2010, by William
Hi Community,
Here's an update from the animators. Things in the animation team are winding down these days as we run out of shots to do. In terms of character animation there's only one, maybe two, shots left to do – most of us have moved to other tasks, such as making final tweaks, and doing non-character based animation. There's still a lot of rocks, hair and particles that need to be moving, but even so this milestone is a significant one for us.
Take a look at the above image showing the film in it's current state inside the Blender Sequencer. The three clip stripes represents from the bottom up the layout, animation, and then rendering. The red strip in the center represents the only shot in the current version of the movie with no character animation, but Beorn will sort that out in due time.
Also, feast your eyes on this amazing scientific progress bar we're using: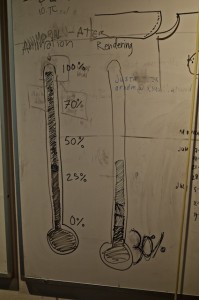 Exciting times! The end of animation also marks the end for certain team members, like me. I'm returning to Denmark on sunday to enjoy the summer and relax after some hard work. This has been an exhausting, exciting project, and I still can't wait to see the final thing on a big screen.
Cheers
-William