on April 12th, 2010, by Colin Levy
Yo! We're stretched to the limit and we need to get a crucial prop for the film modeled and textured: Sintel's backpack. Instead of figuring out who on the team can spare a half a day to work on this, we thought we'd just open it up to the community!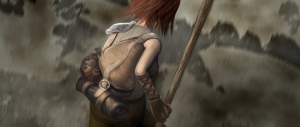 So, what we're talking about here is the backpack– which includes the pack, the straps, the leathery mesh containerything, as well as the rolled-up quilt. You've got THREE DAYS to bring this as final as you can. Show us what you've got!
Download the Sintel.blend to model off of. No more than 5mb of textures please, and it's gotta be riggable. So if you use lots of curve modifiers or something, give us an applied version of the geometry on a separate layer.
You know the drill. Upload to BlendSwap when you're done! 😛
We'll go through the submissions. If one person has done some amazing stitching on the pack but their rolled pad thing isn't stellar, we may frankenstein a few of the models together to form the version in the film. But we'd prefer not to have to do a lick of work. 😛 So make the whole thing awesome. May the best backpack win!
By the way, thanks to everyone who participated in the Extras Modeling and Animation sprint. We've sifted through all the work and we're just now in the process of placing extras in the scene. Hopefully we'll have an update for you in a week or two. But there was some great work done!
–Colin