on March 30th, 2010, by ben
I've been meaning to get back to the guardians ever since I posted the last render of them. Personally I wasn't happy with them but we needed to have something that at least worked on a basic level in a short space of time. If modelling gets held up, rigging gets held up and Lee and Colin needed to get on with planning and animating the fight scenes.
This is where I left them.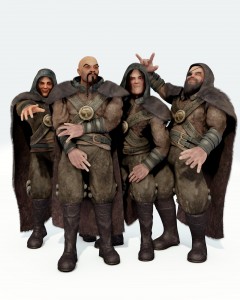 However, things have changed here and we are down to just the one guard. This makes things a whole lot easier to manage. While there still isn't much officially scheduled time to work on them at all, one character is something I can realistically chip away at and I finally got around to starting that over the weekend, the progress is below. (Click for larger image)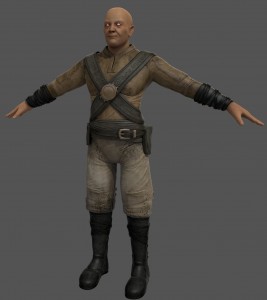 Still more work to go and details to add back. I also haven't forgot that the community lent us a hand with details so I also need to sort through those resources to see what fits with the rig, the animations and so on. For example we had a pretty cool bow (as in arrows) made but the scene and his movements wouldn't work if it was mounted to his back like the original concept art. Skin, eyes, hair and metallic details still need work in case that isn't clear.
While I'm writing a post I may as well throw in a WIP render of the snow scene which is what I'm actually working on these days. Her staff is proxy, she will have a cloak of some sort (still planning how that will work exactly) and there will be falling snow as well. Her hair is still going through a lot of work too. Things like fog crawling along the ground would be nice but many of the shots in this sequence go so quick I'll have to see if it's worth the added time given the schedule. Also need to tone the shadow down a fair bit as it is quite overcast. Anyway, without further rambling here it is: 🙂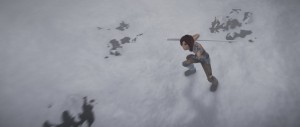 (I don't blog much, forgot the high res link. Thumbnail fixed)
–Ben.