on December 7th, 2010, by Ton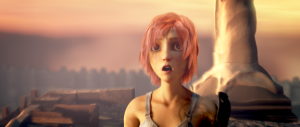 Since mid October we're keeping our office warm with rendering 4k frames. Pablo and Dolf have been cleaning some errors and preparing all files for this breathtaking resolution. Some of you might have seen the sneak preview of shots at the Blender Conference, at a gigantic 4k screen!
All of the shots have been rendered now, but we suffer the obvious hair problems and occasional crashes still. Hopefully it'll be done in a few days: this friday Pablo flies back to sunny and warm Patagonia!
Here you can download 5 random nice images from the farm:
http://download.blender.org/durian/4K_examples.zip
Pablo also collected a list of issues with current .blend files (as on the DVDs) and made a log for how-to rerender the film. Will be posted end of the week as well.
An official premiere for the 4k film has to be finalized still… but soon after all material will become available freely, as usual.
-Ton-