on February 27th, 2011, by ben
PLEASE NOTE:
With the version uploaded to Blendswap.com I somehow left out the textures. The other links are fine.
http://cdupload.com/files/164326_afujl/sintel_lite_textures.zip – about 1mb
NEW: http://vimeo.com/20972435 – quick video tour.
This zip file contains the textures needed to use/render Sintel Lite. Extract to the same folder as the .blend and it should automatically create a folder called 'textures' with all the image files in it. All should work as normal from there.
http://www.blendswap.com/3D-models/characters/sintel-lite/ – .blend only, about 26mb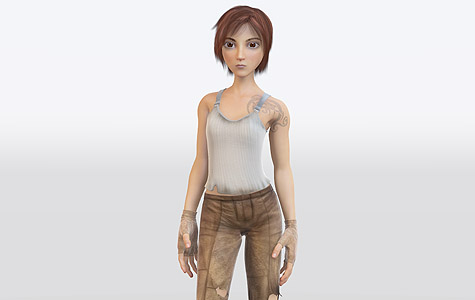 The idea is pretty straight forward – I've edited a 'lite' version of the Sintel character file for testing and learning purposes. As it was on the DVD, sintel.blend opened in 2.56a (trunk, not render branch) and re-saved came to about 71mb. There was also about 1.25gb of textures, mainly from using .png files for the film. It was not a particularly friendly size for downloading, copying and generally moving about the place for a single character. I know some characters get far more complex in the industry but with the range of Blender users worldwide and their respective internet access and hardware it wasn't all that nice to leave it that way. I remember studying the Proog file inside out from the first Open Movie project, so I get that this can be a valuable thing for the community.
Most of what I did was condense the textures down (a lot), trim out objects, geometry, materials and so on that were not essential to the look or functionality of the character. Both the high res and the low res geometry are still in there with the particle hair and a relatively fast lighting setup (no raytracing at all). All is updated to work in Blender 2.56a trunk – ie. the main official builds from blender.org for those who don't know. This is different to the render branch used for the film. Nathan has also helped to update the rig script for this version. However it is worth noting that as Blender is subject to change, the rigging scripts may also break again in future builds of Blender.
Quick rundown: (differs from sintel.blend on DVDs)
Layer 1 – High res meshes
Layer 2 – Hair
Layer 3 – Proxy meshes
Layer 10 – Collision meshes for hair
Layer 11 – Character rig
Layer 12 – Lights, camera, ground
Layer 13 – OpenGL light setup, (basically with no shadows for posing the character)
Layer 20 – Everything else (meta rig – which was used to generate actual rig – and the mesh deform cage)
These links are all the same packed .blend file, just posted as .blend, .7z and .zip
http://www.blendswap.com/3D-models/characters/sintel-lite/ – .blend only, about 26mb
http://cdupload.com/files/164326_afujl/sintel_lite_textures.zip – textures, about 1mb

http://www.filefactory.com/file/b55h1hf/n/sintel_lite_v2_1.7z 6.2mb
http://www.filefactory.com/file/b55h262/n/sintel_lite_v2_1.zip 11.6mb
The following video is a test to make sure that I didn't do anything to the file that would make it incompatible with the animations from the film.
What I did break however and haven't got to fixing yet (as has been pointed out to me) is the groups for importing the character to other files.
http://aligorith.blogspot.com/2011/01/more-sintel-posing-fun.html
Explanation of how to fix this back up, with some tests from the developer Aligorith. What I did for the bamboo video test is simply import/append the action into a copy of the character file and render.
From here – enjoy! Use the file to make animations, test features, file bug reports even as they come up. Feel free to make improvements, share them around and so on. It should go without saying, but the licensing for this file is the same Creative Commons license as the dvd files.
For feedback and discussion, I check Blenderartists.org now more often than this blog, so please feel free to post here: http://blenderartists.org/forum/showthread.php?t=206875
Cheers, Ben