on December 15th, 2009, by ben
David didn't have enough time to do much design on the snowy environment before he left, which gave me a chance to do it. Now that the fight choreography is well underway I have been doing sketches, talking with Colin and the others and working out a an environment design that looks cool and fits the requirements of the fight. It almost goes without saying, but for the sake of those who are newer to 3D and Blender – the more fleshed out the concept art is the easier the rest of the process becomes. It's something that took me a while to fully appreciate while I was starting out so I thought I'd just mention it anyway.
Same deal as usual, click to enlarge: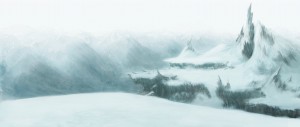 1. Concept painting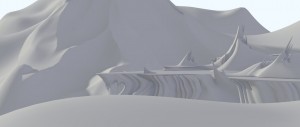 2. Flat render of the proxy environment WIP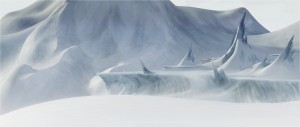 3. Paintover of the proxy environment WIP, just to help everyone visibly check it's still heading in the right direction. Can't have everything stuck in the back of my head because I'd much rather make changes we are all clear on now than after a week or two of solid work.
Through rounds of feedback there will be changes to the structure, look, feel and so on but for now the file is over to Colin to start moving cameras and character blocking for the layout. The background mountains can obviously be changed around a lot but you will notice that within the space of a day the horizon is already very different to my first painting. This way it feels more like a part of an epic landscape, rather than having the fight conveniently take place at the pinnacle of an epic landscape. Decisions, decisions…
Software was Gimp for anything painting related, Blender 2.5 for the little bit of modelling so far. The concept art was all done in Gimp, blending some photo reference into painting. Also to re-iterate, the environment model is simply blocking in the forms for Colin to plan the shots. Then based largely on the shot placement, the actual set will be modelled.
– Ben