on July 23rd, 2011, by Ton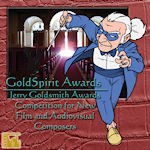 Both the Sintel score and the Sintel credit song "I move On" have won the Jerry Goldsmith Award at the prestigious International Film Music Festival.
Here's the announcement on the official web with pictures.
Great milestone for composer Jan Morgenstern and lyrics writer Esther Wouda, for the entire team, for open source movies and Creative Commons, and of course everyone who helped making Sintel possible!
-Ton-