on May 26th, 2010, by Pablo Vazquez
Yo!, Pablo here. *hey before you scroll down to the video, this is work in progress!*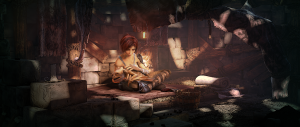 Remember that old blogpost I did the first week I got here?, well, once that shot was "there", I moved on to light another environment for 2 weeks, then another environment for 2 more weeks.. so I left all the other shots for Sintel's cabin abandoned, until a week ago that I got time to actually work on it and call it finished.
What you'll see here is work in progress, a bunch of render tests put together, so you'll get to see the progress of this scene until it makes it to the final movie.

What's missing:
The lighting and compositing is pretty much done (missing floating particles and stuff, that's already there but not in this render), now is more about fixing the flickers here and there, which are produced mostly by low quality settings (low AA, GI samples).
There is no hair sim for sintel, and no cloth sim for the dragon's wings, so you'll notice a hell amount of intersection there, yes we know that 🙂
What's new:
Besides low quality settings, you'll also notice that Scales (the baby dragon), actually got scales now! thanks to Kevin Hays (Jeepster) who volunteer to sculpt it, compared to the trailer one which was mostly normal maps. You'll also notice Sintel got better hair now, again compared to the trailer (and the Shaman hut's shots shown here couple weeks ago), so you can see we really read all your comments and take your advices! 😀

Download OGV video file.
That's it, I hope you read this before commenting about the errors I already pointed up here (I usually do the same, run to the video, press play and complain without reading 🙂 ), is about sharing isn't? why wait to the very final tweaks if we can show the work in progress 😀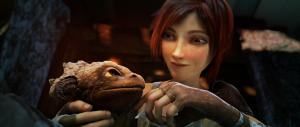 Thanks for passing by!
venomgfx