on April 23rd, 2010, by Deevad
! – NEW DATE – !
FRIDAY 30 APRIL at 19H00 in the 3DNA Room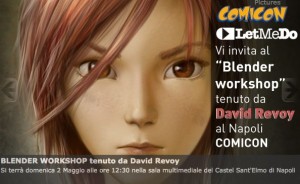 I will be invited to talk about Sintel at the Comicon (Naples, Italy) . Many thanks to the organisator, and I hope meet a lot of you there.
Here is the press-release :
LetMeDo and Comicon invite you to follow the workshop to be held by David Revoy,
Sunday, May 2 at 12:30
( edit: Friday 30 April at 19H00 )in the multimedia room of the Castel Sant'Elmo, during Comicon 2010 festival. The french illustrator and art director of "Sintel," will address the following issues concerning the manufacture of the third film of the open source Blender Foundation
– Sintel ; the story of the project, general story about open movies
– Exemple of the work in progress of a scene of Sintel, talking about the workflow : concept art / storyboard / crappymattic / the 3D models / final animation / rendering
– Question / Answer with public
The final part depending of the amount of question on the open movie 'Sintel' will focus on his recent workshop DVD, Chaos&Evolutions . A live painting demo to discover some features of Al.chemy an inspirationnal free open source software for creative poeples, the demo will be fully commented .
The workshop is free for those who have a valid ticket for the entire event (10 € for three days).
For more information:
-David