on March 10th, 2010, by ben
Hi all,
Just a quick post to show some progress on the environments.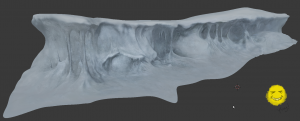 Basic workflow:
1. Modelling (always a good place to start) the cliff
2. Uv unwrap. Seeing as it was going to be projection / matte work for the most part I just did an unwrap of all the faces laid out on one sheet in quads. Not paintable as a map in gimp, but much easier than trying to unwrap every column and spike.
3. Render bake with basic light and ambient occlusion. There are four our five parts to the mountain range, increasing in texture size per poly as we get closer to the characters. Starting each texture with a render bake helps with painting but also with consistency.
4. One main projection using the feature Campbell recently added to do the painting in Gimp and automatically transfer it back on the mesh texture.
5. A few smaller projections into Gimp to start fixing some of the larger occluded areas.
6. Seam fixing in Blender's viewport with texture paint, the result of which is the posted image using a mix of clone tool and brush tool with right click often to sample nearby colours.
A few quick notes that go with the above:
I finally figured out that in Gimp you go to Tool Options – Paint Options Shared Between Tools – Brush (Turn off). Makes things less frustrating. For months I just thought Gimp couldn't have individual brush tools. Still peeking through the settings for other things to fix and bugging David while he's here this week on how to use Gimp in a more workable fashion.
I tried to record a fly through because the effect of the still image is different to seeing the scene in motion but not familiar enough to get screen capture stuff working and it's getting a bit late. The team's positive response seemed to be 'It's like a painting… but not'. Still plenty of room to push it detail wise, but about out of time yet again scheduling wise. Painting part of this set piece was all done today, much of that painting occluded areas from projections. Probably could have done some things a bit smarter but by the time you learn something here you are already on to the next asset anyway.
Colin and I swapped places for about 20 minutes this evening so any errors you can blame him. To be fair though if some camera work goes funky halfway through the film it's my fault. Either way Nathan got a free Kit Kat out of the whole thing somehow.
–Ben.