on March 8th, 2010, by Ton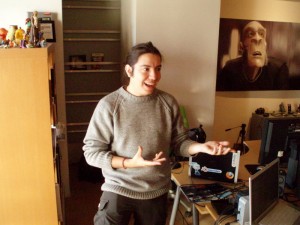 Freshly arrived in the Netherlands: Pablo "venomGFX" Vazquez will be added to the team responsible for shading / lighting / render  & compositing. Great to have this ex-Apricoter over again!
Also queued up: Dolf "macouno" Veenvliet will start here in 2 weeks, to help the render team as well. And, last but not least, William Reynish – ex BBB – will be helping animating here the last three months! Starts in April…
This week we also have David Revoy over to help (paint overs!), he'll be here for a week each month now.
That puts this project on over double the full-time artists as previously! We need it though, ambitions are high… and if we want a film by the end of june we better hurry!
Oh eh, where are the renders? Damn Soenke and Ben are hiding it somewhere… 😉
Laters,
-Ton-