on March 1st, 2010, by Ton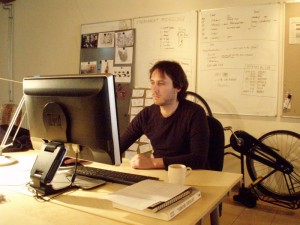 More power in the animation department: Beorn started today as character animator. He was already living in Amsterdam, so it was an easy decision to add him during the final months. Beorn has been doing a course at Animation Mentor (using Blender) and already proved to be a very fast and skilled character animator.
Beorn is born Australian, and since recently with British nationality too. More euro power! 😉
-Ton-
BTW 1: On the picture, Beorn, Campbell's ever leak bicycle, and whiteboard with secret instructions.
BTW 2: I've already seen so much cool stuff here in the studio… but the artists don't like to share it yet! Just wait a bit, they are making it really awesome!