on October 6th, 2009, by Ton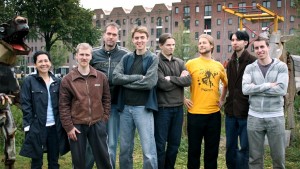 Phew, second day of Durian already! Things are crazy fun and hectic here, we spend ages in meetings it seems.
To start with: check these cool pictures from Andy Goralczyk, he was in the studio here for a week course, and stayed a couple of days to welcome the Durian team and consult us a bit on various issues (4k render, epic shots, realistic human shading, …).
Andy's flickr Durian Kick-off gallery
Yesterday we went over all the key topics for the startup of this project. Discussing essential boring stuff like working hours, keys, closing-down-office protocols, bicycles, apartment stuff, who gets us lunch, office cleaning, and of course about schedulig this whole project. Some decisions;
– We will make a schedule for a weekly MonkeyButler service, everyone then is for a week the office slave doing some cleaning, get and prepare lunch, manage dishwasher and change towels. I'll do the first week 😉
– Script is getting some minor revisions for feasibility, but by Blender conference it's final. We will present there the first scenes, about a minute of film. These scenes and shots we'll keep updating live on the web for everyone, so you can watch it develop from storyboard to final.
– Everyone has a topic assigned to blog about this week.
– First month will be mostly design oriented, with targets to get final designs for the characters and environments during November.
We also defined first week targets for everyone:
– Soenke will work this week on creating an epic render in Blender, on Avatar level. (Yes, Cameron's Avatar is the new reference standard for epicness)
– Angela and Nathan work on a quick female character model and rig, firday ready for Lee to pickup to animate.
– Lee will study fight choreography further, and come with proposals and designs for the fight sequences.
– Colin will review all feedback on the script and propose a couple of possible scenario solutions to further explore.
– Colin and David continue storyboarding, David continues with concept art.
– Campbell and Brecht focus on fixing everything in 2.5 that's reported here!
Today, from 14-19h we spent on the script with Esther, going over all scenes, versions, stylings, characterizations, emotional impacts, deeper meanings, layers, bad-ass leveling, epicness and simple stupid silly fun aspects of this project. 🙂
Later more,
-Ton-