on September 1st, 2009, by Colin Levy
Why hello! Earlier this week we set up a Twitter account for Durian.
What is Twitter, a tiny portion of you may ask? Twitter is a service which will allow you to keep you completely up-to-date with the excruciatingly mundane details of Project Durian.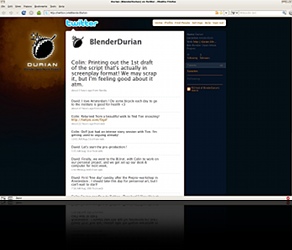 Would you like to know, for example, when the director is having a mental breakdown? Or when the rotten milk in the fridge has put our animators out for a week? Would you like to know what features we're breaking in Blender 2.5?
…of course you would!
Just go to http://twitter.com/BlenderDurian/ and click "Follow" to keep yourself updated. You can also subscribe to the RSS feed. Not too much now, since it's pretty much just David and I at the studio, but as the project heats up you can expect multiple tweets daily!
In the week or so we'll also try adding some upgrades to the website to better integrate twitter with our blog.
–Colin
Update: We are also hoping to support identi.ca in the near future, for those who prefer it.