on October 3rd, 2009, by Ton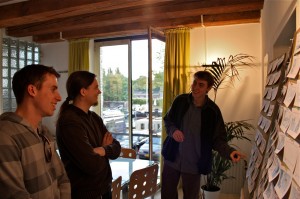 Quick update: last thursday – October 1 – Lee and Soenke arrived in Amsterdam. Today Angela and Nathan dropped in. So I've been busy with getting them installed in their apartments and in Amsterdam a bit.
All of last week, Andy Goralczyk and Colin (and David monday) gave a week of Advanced Blender course here. David then went home for a week to his gf. This monday Campbell arrives, tuesday David comes back, and then we're complete again… and will post regularly here!
On the picture: Lee and Soenke enjoying Colin's storyboard talk.
-Ton-