on August 31st, 2009, by Deevad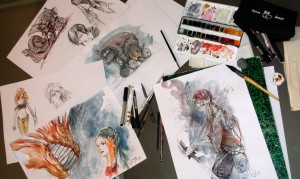 As a student, I kept drawing / doodling during my classes ( teachers didn't like that  and -in the end- it's not helped my studies but more my drawing skills ). I was really surprised to see this didn't change a lot during the preproduction workshop; so I kept drawing / painting with very few early ideas.
I basically used  watercolors ( Winsor & Newton ) on a strong bristol A3 paper ; adding some lines with markers / pencil and white lines with a typex like corrector.
So, those pictures above do not reflect any real concept art I want for Durian, but I just wanted  you to have a look on my table side, and share some comments on those (too) early concepts 🙂
( PS: Thx Colin for the photo )
-David