on September 13th, 2009, by Deevad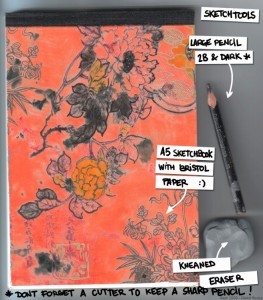 I took my saturday freetime to visit Artis , the big Zoo of Amsterdam ; more precisely to enjoy a sketch session in the zoo , and spend time with animals. I worked on my sketchpad ( around 21cmx15cm , A5  bristol paper  , I don't advice it to beginner cause it will block you to have a "too precious" paper – prefer a paper that you can "waste" without any trouble … btw, I can waste bristol without any trouble ). My pencil is a large 2B and dark sketching pencil from Derwent, but any "soft" black marking pencil are good for this. I use too a soft kneaded eraser , cause sometime I miss a Ctrl+Z feature to my sketching workflow 🙂
I have some advices if you want to start sketching from life :
For beginners , prefer to draw simple things, target simple goal at first.

Take your time. If your model move ; start another sketch ( or finish it by memory )

Find the main lines of the "essence" of your model. Draw them thick & strong.

Don't focus on details at first. Add them at the end. Draw them thin & light


Understand your model (muscle, light, volume, material, expression)

Gray shade (when it's necessary) at the end, do it softly.
Of course , that's more easy to say , than to do ; here are my zoo sketches  :
– David
PS: I found a cool gang of tux in the zoo , and some zen gnu .